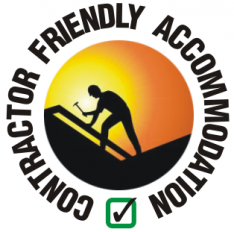 If you have a work contract in the North East then South Shore Guest House is the ideal base of operations for you. Many areas of the North East have limited accommodation which can be very expensive and likely to be quite a drive to the shops or places to eat and drink.
South Shore Guest House is located on Ocean Road just five minutes walk from the lively town centre or to the beach front. Ocean Road is rightly famous  for it's "curry mile" (not a mile!) with over 30 Indian restaurants to choose from. Don't worry if you don't like spicy food as there are coffee shops, fried chicken outlets, Italian restaurants, American style sandwich, burger and pizza joints and even good old fish n' chip shops and of course traditional public houses.
There is ample free parking in front and to the side of the premises.
The Tyne Tunnel is just 10 minutes drive from the Guest House and the centre of Newcastle is 23 minutes away. Gateshead is 18 minutes along the A194 and the A1(M) is 20 minutes away. Sunderland is only 9 miles away or 16 minutes by vehicle. If you are not driving, the train and bus stations are 5 minutes walk into town.
We can offer huge discounts on advertised prices for long term stays and multi-room bookings, simply give Lorraine a ring on 0191 454 4049 and cut a great deal today.